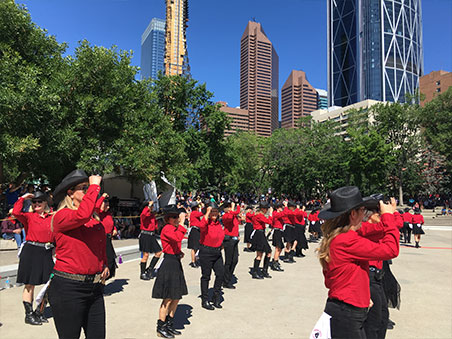 Performances
Calgary Herald Readers' Choice GOLD Award:
Best Dance Studio 4 consecutive years (2016 - 2019)
Best of Calgary Finalist 2019
Nominee for Mayors White Hat Award
Nominee for Calgary White Hat Award (2017 - 2019)
Two Time Calgary White Hat Nominee for Best Customer Service: Attraction

This coming weekend our dance troupe climbs aboard the sunshine express to perform for a beautiful group of kids!
This awesome group performs to a variety of music and styles of dance. We provide high energy and enthusiasm at private functions and corporate events. We are ready to bring the highest energy to your special event. Come see Chinook Country Dance Studio at the Greatest Outdoor Show, The Calgary Stampede!
Calgary Stampede Parade Prelude Entertainment

Rope Square performances during the Calgary Stampede

Providing entertainment at numerous breakfasts and Bar-B-Ques

Special guest performances at Calgary's Heritage Park

Performers along with George Fox and George Canyon on Canada Day

Tim Hortons Brier 2015 Guest Entertainers
​Canada 150/Labour Day Cochrane Prelude Entertainment

And many more functions in the Calgary region throughout the year
Marilyn Denis (Canadian television and radio personality)
became an honorary member and danced with Chinook Country
during the Calgary Stampede 2013
Best Prelude Performance in the Calgary Stampede Parade Centennial Anniversary 2012
1st Runner Up in the Calgary Stampede Parade Prelude 2011 2nd Runner Up in the Calgary Stampede Parade Prelude 2009