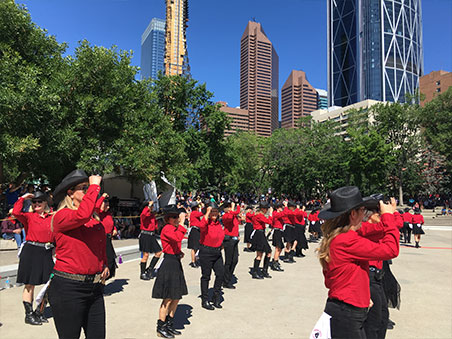 Performances

Calgary Herald Readers' Choice Award:
Best Line Dance Studio (2022)
Favourite Line Dance Studio (2020 - 2021)
Best Dance Studio 5 consecutive years (2016 - 2020)
Nominee for Mayors White Hat Award
Two Time Calgary White Hat Nominee for Best Customer Service: Attraction
We are committed to providing excellence and dedication to all our students!
We provide first class event entertainment at private functions, weddings and corporate events. We are ready to bring the highest energy to your special event.
Come see Chinook Country Dance Studio at the Greatest Outdoor Show, The Calgary Stampede, The Calgary Stampede Parade Prelude, Olympic Plaza, Heritage Park and many more functions throughout the year.
Brett Kissel (Canadian Country Artist) became an honorary member and danced with Chinook Country during the Calgary Stampede 2022
Marilyn Denis (Canadian television and radio personality)
became an honorary member and danced with Chinook Country
during the Calgary Stampede 2013