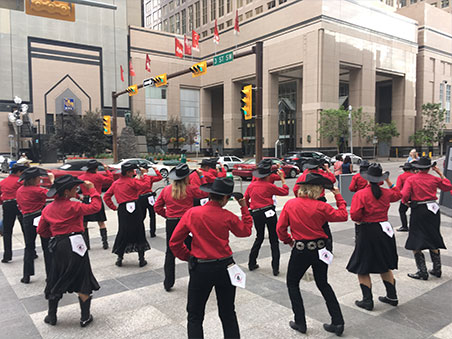 Testimonies
Chinook Country Line Dancers have so much fun dancing together. From Calgary's Western heritage to the Blues of Motown, we are always ready to put on an exciting show! CC is all about fun, friends & fitness.
Check out what our CC family say about our dance school:
Thank you for making the classes so much fun and more importantly for being a fantastic dance teacher. Denise
I've always loved dancing and when I was finally able to join your dancing school I knew that was it for me. No more looking around. You don't realize how much this has helped me emotionally and also health wise. Now I have another family and new friends. Makes me smile and tear up! Jill W.
I am usually tired from my day but when I get to class I get an amazing buzz and feel so good - your school is drop the mic fantastic - so happy my friend and I joined!
Very organized - terrfic setting - very pleased I found this dance school, the fact that we go on trips makes my heart sing! LW
I feel like a star, thank you CC for being one of the best Dance schools - my friends are so happy they joined. AL
I found a school I really love - beautiful family and I feel blessed!
I get a buzz for being apart of a wonderful array of dancing family members - our Calgary community is blessed to have such a great group enhance the community spirit. RR
It's the best part of my week- thank you dancing family for giving me so much joy. LM
I have lost 25 pounds from dancing and feel so fantastic - what a great way to stay in shape and doing it with Chinook Country - the BEST dance school. SH
Thank you for making our event so memorable - your troupe is fantastic - definatly the high light of our evening and I highly recommend your group. FDE
I am having the time of my life - so rewarding and a joy to be part of this family! Thank you from my heart to your's. KS
I am on tour and loving it - being a dancing pro is so rewarding - come join this wonderful group as I am so happy I did. HM