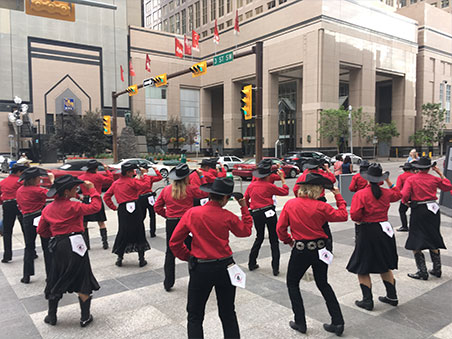 Testimonials
Chinook Country Line Dancers have so much fun dancing together. From Calgary's Western heritage to the Blues of Motown, we are always ready to put on an exciting show! CC is all about fun, friends & fitness.
Check out what our CC family say about our dance school:
Thank you for making the classes so much fun and more importantly for being a fantastic dance teacher. Denise
I've always loved dancing and when I was finally able to join your dancing school I knew that was it for me. No more looking around. You don't realize how much this has helped me emotionally and also health wise. Now I have another family and new friends. Makes me smile and tear up! Jill W.
I can't say enough about how wonderful, uplifting, inspiring and fun it is! It's such a welcoming atmposphere and they make sure that everyone feels important and supported no matter Beginner to Advanced. This carries through and creates a wonderful energy and sense of community to which I am thrilled to be a part! Janice
I joined CC Dance Studio three years ago after watching them perform during Stampede. I love the dancing, the choreography, the style and challenge to my brain and body. Most of all I love the friendship and fun. What is really special is the smiles on people's faces when they watch us dance. Helen
I loved the Stampede dancing energy last Summer, which says a lot considering I was just beginning my performing experience. Our Beginner group has sure come a long way since then; thanks for all your energy and encouragement. Chris