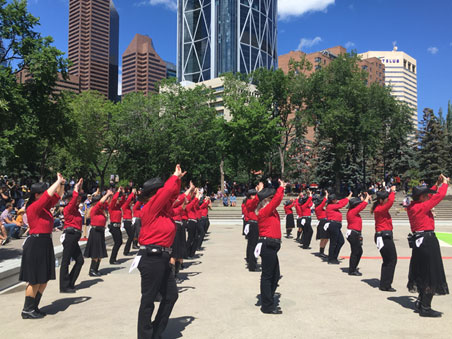 Chinook Country Dance Studio
Register for Fall 2022 classes!

Calgary Herald Readers' Choice Award:
Best Line Dance Studio (2022)
Favourite Line Dance Studio - (2020-2021)
Best Dance Studio 5 consecutive years - (2016 - 2020)
Nominee for Mayors White Hat Award
Two Time Calgary White Hat Nominee for Best Customer Service: Attraction
What makes these awards special for us is your loyalty year after year.
Welcome to Chinook Country Dance Studio! The Chinook Country Line Dancers are an Award Winning dynamic Dance group providing professional dance instruction. We offer a wide variety of dance for everyone and we have grown to be one of the largest and most popular dance studio and line dance studio in Southern Alberta.
Chinook Country dancers are people of all adult ages who want to dance to music, gain friendship, fun and fitness. No partner required and dancing offers a fabulous exciting way to add physical, mental, expressive and social interaction to your well being. Dance is proven to make you happy and add years to your life!
Modern dance and Line dance classes run year round starting in Fall. Our program offers high quality health and wellness. We also have a professional dance troupe you can join. They perform year round for many special events world wide including the famous Calgary Stampede.
Art, dance and theatre, explore your world of dance with Chinook Country Dance Studio.
Celebrating 11 years of first class dancing!